What it is–and what it should be are two different answers.
Actually, there are a dozen answers because Zen Buddhism has mutated into many things in Japan.  Then Americans mutated the mutations.  So now we can take a closer look at this "MUTANT ZEN" of America.  Most of it is very green!
Since Zen Buddhism was founded by a hippie, it makes sense that Shaolin Zen Television should also be founded by a hippie.
Audio Podcasts
Video Podcasts
Blog page
Links to more…
ONLINE courses
Book readings
Buddha Zhen teaches
Links to more…
Music Videos
Kung Fu music
Meditation music
Links to more…
Advice from Buddha Zen may be a "Patreon Bonus Reward" in the future.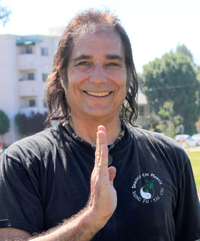 Support Shaolin Zen at Patreon
Shaolin Zen IS Buddha Zhen.  By supporting Buddha Zen, you support Shaolin Zen.  More interest in Shaolin Zen could result in more products and projects for Shaolin Zen Television.
The Shaolin Zen CyberTemple was created in 1999 on the iMac Blueberry of Buddha Zhen "Richard Del Connor."  None of the Shaolin Zen CyberTemples resemble the original storyboards and designs of Richard in 1996. Hopefully someday I will have the technology and resources to create the ONLINE TEMPLE designed for Shaolin Zen 1996.
Richard Del Connor has always been a scientist.  He was being bussed to other elementary schools to give lectures on photosynthesis and enzymes when he was 10-years old.  He was on the Regis Philbin show to debate against a panel of school teachers.
As Richard Del Connor neared puberty his scientific interest began to shift towards studying humans.  While visiting the San Diego Zoo on a regular basis, Richard realized he found the people in the zoo much more interesting than the animals in the zoo.  Human behavior became his hobby while performing on trombone in the school orchestra and being a "Patrol Boy."
It was in 1984 and 1985 while Richard was attending UCLA that he discovered books on Buddhism and Taoism…